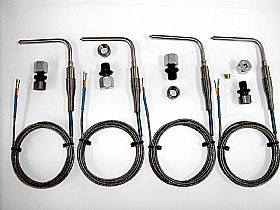 Bullet Pro Series Motorcycle/Sport Compact EGT's,

Shown w/ weld-on fitting in Mild Steel (Also Available in Stainless Steel)

RacePak Part# 800-TC-B3-Set

Bullet Set of (4) .187" dia.

You'll Receive 1 of each length;

Our Probes Feature:
.188" Dia.
Shown with Weld-On mounting hardware.
Wire Length is 12",16",19",22" inches w/ striped leads.
Kapton Insulated Stainless Steel Overbraided Wire.
Response time 350 milli-seconds All Day Long!
Exposed Tip Junction Hyper Response can see a single misfire @ 8000 RPM.
Type "K" Calibration Special Limits, Traceable to N.I.S.T.
Inconel Outer sheath good to 2200+ F
This Probe is compatible with...Race Gasoline, Alcohol, Methanol,E85 or Nitrous Oxide in naturally aspirated, Turbo charged, Blown/Supercharged Engines.
Exhaust Gas Technologies, EGT sensors are the #1 EGT sensors used in professional Motor sports world wide. We currently supply the top teams in NASCAR, INDY,NHRA, IHRA, BONNEVILLE, and IMSA AND MORE.

We're the people that started EGT measurements in auto racing years ago. Everyone is still chasing us with many "Look-a-Like" products and pirated concepts.

No one has come close to our Performance, Longevity, Accuracy and Reliability.

Just ask the pros,

"The REAL PRO'S"!