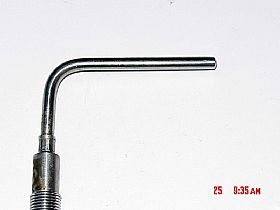 Avenger Series K Type Sensor 3018E-72-R-O (E= EGT-0228-W Hardware)
Avengers Series Universal Temp Sensor is a "K" Type enclosed tip sensor and is compatible with most temperature measurement capabilities including (EGT, Water, Oil, & Air)
This sensor includes a brass compression fitting w/ 1/8" NPT thread connection; wire length is 72" with stripped lead wires.
Exhaust Gas Technologies, EGT sensors are the #1 EGT sensors used in professional Motor sports world wide. We currently supply the top teams in NASCAR, INDY,NHRA, IHRA, BONNEVILLE, and IMSA AND MORE.
We're the people that started EGT measurements in auto racing years ago. Everyone is still chasing us with many "Look-a-Like" products and pirated concepts.
No one has come close to our Performance, Longevity, Accuracy and Reliability!