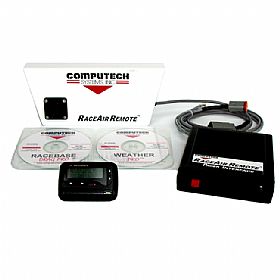 Computech's RaceAir Remote Paging Weather Station allows you to receive up to date Dial-In, Throttle Stop and Tune-Up predictions anywhere at the the track. This is a completely stand alone system that requires no subscriptions or additional costs and comes with everything you'll need. Used by many of the pro's we calibrate our weather stations using a state of the art in house calibration tank so you can be confident you're using the most accurate weather station on the market. We have housed our top of the line RaceAir Weather Station in a completely powder coated aluminum weather proof enclosure. Mount it outside of your trailer and never worry about rain, sun or dirt effecting your readings.
The weather station wires into an interface box that houses your own personal paging transmitter and allows you to connect to your computer, compatible with Windows 98, XP, Vista & 7. Our powerful Weather Pro software allows you to track the weather the entire day and even throughout multi day races. It will give you an easy to read line graph for any weather variable you would like to track, as well as a chart so you can easily match your time slip to your weather.
Couple this with the included RaceBase Drag Pro Electronic Log Book and you can get live updated ET or Throttle Stop Predictions paged directly to you in the staging lanes! The RaceBase software also allows you to easily organize your ET slips in a way that allows for custom views, filters for narrowing down similar runs, easy to create and track notes and many more features.
Trying to determine what your going to dial can be one of the more stressful aspects of bracket racing and the RaceAir Remote Paging System takes all the guesswork out and allows you to relax while your in the staging lanes.
Features
Pager w/Case
Powder Coated Aluminum Housing
Completely Weatherproof
40 Feet of Cable
Antenna
Antenna Cable
Antenna Mounting Bracket
Pager Interface Box
Weather Pro Software

Easily Graph Weather Variables
Time Stamp Runs On The Graph
Chart For Easy Data Search
Exportable to Excel

RaceBase Pro Electronic Log Book

Easily Organize Time Slips
Track Tune-Up Changes
2 ET Prediction Programs
Throttle Stop Prediction
Run Completer
Tune Up Programs
Estimated ET & HP
Intermediate Time Analysis
Expenses Tracing
Maintinence Tracking
Custom Editable Views
Multiple Car Logging
Weather Variables
Temperature
Humidity
Barometric Pressure
Standard Correction Factor
Density Altitude
Air Density Ratio
Dry Barometer
Dew Point
Wet Bulb
Vapor Pressure
Water Vapor (grains)
Pressure Altitude