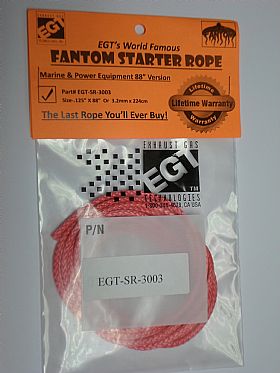 Heavy Duty / High Quality FANTOM STARTER ROPE
Size - 88"x .125" (224cm x 3.2mm)
SUPER tough Ceramic braided rope to fit just about any recoil starter.
If its a Lawnmower, Chainsaw, Generator, Trimmer or Marine Outboard, Here's a item you can't live without!
Superior Lifespan without fraying and is resistant to gas and oil, with over a 5,000 pound tensile rating, it carry's a 100% LIFETIME REPLACEMENT WARRANTY!
Enough Rope for 2 Chain Saws!!! A Must For Landscapers!
If you have any questions call EGT tech support @ 1-800-348-4678