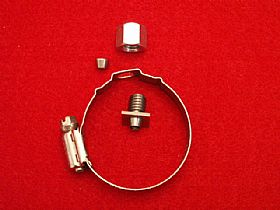 New Clamp Style Hardware
Designed specifically for motorsport installation. EGT's engineers have developed a smarter,smaller sensor clamp assembly that can solve multiple problems.
The tapered cone minimizes possible exhaust leaks at sensor entrance. The square clamp saddle prevents sensor rotation. The clamp dimples allow for pipe expansion due to extreme exhaust temperatures and the Brass body/ferrule can tolerate multiple installations.Our lower profile allows installation in confined areas.
If you decide to remove the sensors you can seal the port with our solid sensor caps, eliminating welding the hole shut. If you break the clamp, it can be easily replaced without returning the complete sensor.
Includes #32 Clamp (1 9/16"-2 1/2"), Nut, Brass Ferrule & Base.
Other Sizes Available Contact Factory.