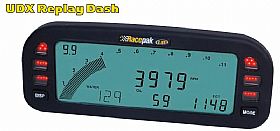 UDX EFI Dash for Big Stuff 3. 250-DS-UDXBS3
While similar to our other series of UDX display dashes, the EFI UDX Display Dash is designed as a plug and play replay and display dash for many of the popular EFI engine management systems.
By utilizing an optional Racepak EFI module, the EFI Display Dash can display many of the functions monitored by the EFI controller.
Note: EFI Dashes do not come with sensors.
UDX dashes are capable of displaying up to 21 different functions. There are five numeric displays, plus the engine RPM sweep bar, on each of the four screen 'pages'. Scrolling from one page to the next is accomplished with the push of a button.
The 7.25" x 2.62" LCD screen is backlit for night time operation. Each dash has output for a shift light, and shift point programming is done right on the screen. Warning lights are located on each side of the display screen. You have the ability to assign these high or low threshold alarms to your choice of monitored functions.
The buttons at the bottom of the panel are used to scroll through the screen pages as well as to activate various functions. Additional sensors can be added by using the popular individual V-Net sensor and modules
Overall dimensions of the UDX bezel are 4.0" tall and 10.2" wide. It will stand out .750" from the mounting surface. The dash can be mounted against any flat panel which permits a depth of 2.00 inches behind the mounting surface for clearance of the dash and its rear mounted V-Net cable. The dash weighs a mere 1.3 pounds.
FEATURES
Specifications:
Display up to 21 sensor inputs via 4 pages.
Adjustable backlighting
User defined warning lights
Minimum/Maximum recall
Turn signal, high beam, engine warning lights
Includes:
UDX EFI Dash
Wire loom and connectors for sensor input termination
Display Dash Provides Viewing of:
Any 21 sensor inputs recorded by the data logger
Shift Lights
Warning Lights
Dimensions:
4" (H) X 10.2" (W) X .75"(deep*) * Requires 2" rear clearance (10.16cm X 25.908cm X 1.905cm)
Weight: