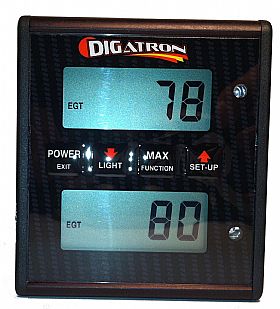 Digatron 52SL series kit includes the following channels EGT-EGT w/ MAX Recall (No Recording).
Rugged and dependable Digatron's performance data systems offer advantages for both the racer and recreational user.
Use these systems to simply monitor your engine and obtain your maximum readings. Whether you are looking for peak engine performance, or a system to monitor engine modifications the 50 series instruments can accomplish this!
Large easy-to-read displays make this series the ideal tool for monitoring and tuning your vehicle. Red LED lights serve as an ideal engine warning system.
52S Series Kit Includes :
52S L Instrument
Power Harness (AC (lighting coil) or DC voltage)
(2) Stinger EGT Sensors (72" Length w/Clamp or Weld-on mounting)
Mounting Bracket
Water Proof cover
Size is 3" x 3.5" x 1.2"
Backlighting
Powered off the vehicle only
Manual Turn On
Alarms w/ Lights on all inputs
LIFETIME WARRANTY on the instrument (2) year on the EGT sensors
Add The Following Options: (additional cost)
(Exchange/Swap out Temp Channels)
CHT sensor
Water Temperature
Oil Temperature Sensor
Air Temperature Sensor
This instrument has thermocouple temperature functions Either CHT, EGT, Oil, Air Temperature sensor can be connected to a temperature function on the gauge.The water temp is a thermistor style sensor which are common in automotive applications. The limit entered in the instrument will determine if the instrument displays CHT or EGT.
If a temperature sensor is not used in a specific channel the factory will include the shorting plug that can later be removed by the user to upgrade to a extra temperature channel.
We offer a large variety of instruments, accessories and options. We encourage you to call us with any questions regarding our products.
Tech Assistance: (1-800-348-4678 Toll Free or 1-909-548-8100)
**Sensors can be ordered at any requested length. (Additional custom length fees apply)