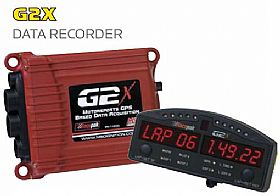 G2X Data Recorder Kit. 600-KT-G2XR
The key to the G2X is its ability to interpret signals from GPS satellites to quickly establish the position and movement of the vehicle.
From this monitored data other performance parameters can then be calculated. The G2X has the ability to provide track mapping, lap times/number/distance, segment times, speed, lateral G-force, and acceleration G-force. With 128 MB of memory, over 20 hours of GPS data can be stored.
Enhancing the features of the G2X is its versatile digital display dash that will provide the driver with a display of lap times, lap number, per lap gain/loss, gear indicator, progressive shift light, battery voltage, and G-forces.
Engine RPM is available to those with an ignition system that provides a tach signal output, and three additional inputs from external sensors can be displayed on the dash. When the vehicle is stationary the gear indicator becomes a display of the number of satellite currently being monitored.
The dash is also used to provide a means of defining the start/finish line while on the track, thus providing immediate access to displayed data.
The dash can be attached to a steering wheel or mounted on the dash panel. A single cable provides the connection between the G2X and the dash for programming purposes.
FEATURES
Channels:
V-Net: 12
Internal: 4
16 Total Channels
Sample Rates:
V-Net: up to 100 per second
Memory:
128MB SD memory card
Recording time depends on number of channels monitored and sample rates
Record multiple runs
Cableless download
Internal Sensors:
Battery Voltage
Longitudinal g-meter (acceleration and deceleration)
Lateral g-meter (side-to-side motion) GPS
Dimensions:
5.6" (L) X 4.00" (W) X 1.5" (H) (14.2cm X 10.16cm X 3.81cm)
Weight:
Logger: 13 oz. (.37 kg)
Kit: 1 lb. 13 oz. (.81 kg)
Typical Uses:
Road racing
Oval Track racing
Club racing
Driving schools
Karting
Pulling
Motorcycles
Test facilities
Snowmobiling
The G2X GPS package monitors:
Lap Times
Lap Number
Per Lap Gain/Loss
Gear Indicator
Progressive Shift Lights
Accel G/Lateral G
Battery Voltage
GPS Speed
The G2X GPS package includes:
G2X Recorder
GPS Antenna
LED Dash Display
128 MB SD Memory Card
Datalink II Software
Communication Cable
Cigarette Lighter Adapter
Power/Ground/Engine RPM Harness