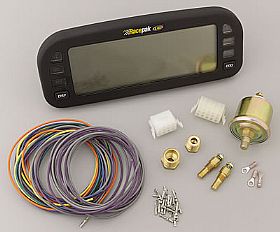 Ultra Dash Extreme for Street Rods
A display only model for street rods and street machines.
This model adds the features that are required on street driven vehicles, such as speedometer, odometer, high beam, parking brake and turn signal indicators. The dash also offers the ability to display water temperature, oil temperature, oil pressure, fuel level, battery voltage and tachometer.
Approx. dimensions: 4.00" tall, 10.20" wide, 2.125" thick. (0.825" bezel + 1.30" back housing) Total clearance required behind mounting surface: 2.0"
The 250-DS-UDXSR
It has the ablitiy to display these items:
Engine RPM (12V square wave signal type input)
Speedometer MPH (Required to purchase a electronic speed sender for speedometer if vehicle is not equiped with one)
Trip/Odometer
Water Temperature
Engine Oil Pressure
Oil Temperature
Battery Voltage
Fuel Level (Requires a fuel sender)
Built in indicator lights for the following:
Low Oil Pressure
High Oil Temperature
High Water Temperature
Low Battery Voltage
Parking Brake
Turn Signals
High Beam Headlights
Sensors for water temp, oil temp, oil pressure, battery voltage (internal) are included with the kit.