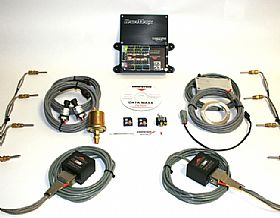 The DataMaxx Professional Kit is a must have for any heads up racer. Protect your expensive investment by using a data logger that monitors every cylinder and pressure necessary to increase horsepower without damaging your engine. Data loggers have long had a stigma for not adding horsepower, and while just adding it doesn't, the information and knowledge you gain from it can be more valuable than any bolt on part you could imagine. This specific kit is designed for the heads up racer that needs to monitor the motor closely. If you're pushing your engine trying to squeeze every ounce of horsepower out of it, you're walking a fine line of maximum performance and catastrophic failure. Having a data logger allows you to closely monitor your engine and realize when you're heading over that line, saving you thousands of dollars while still getting maximum performance. Comes with Engine RPM, Driveshaft RPM, Fuel psi, Oil psi, Accelerometer, Boost or Nitrous psi, 8 EGT's, Remote SD Module, Battery Voltage and 2 Switch Monitors. You can also get the Professional w/Dash Kit if you would like to add the digital dash. Also check out the Bracket Kit for a less expensive option and the Sportsman Kit for dual oxygen sensors.
About The DataMaxx Data Logger
The DataMaxx data logger is a complete stand-alone data acquisition system designed to fit the sportsman racer's budget, but with features and sample rates that rival the most expensive systems available. When it comes to a data logger, it's hard to tell one apart from another besides just looking at the price and a plethora of features list. Typically there are three main things you need to look at when choosing a data logger; Hardware, Software and Technical Support.
The Hardware is the backbone of a data logger and has to be reliable if you're going to be happy with it. There is nothing more frustrating than spending hours assembling a data logger only to find that the first tire shake you have causes it to break. Using the latest technology is also key, and the DataMaxx utilizes an SD card for quick and easy data transfer as well as a modular CAN Bus system to transfer data between different expansion modules. This means that you can purchase the base main module at a low price, which has the room for 4 rpm's, 4 analogs and 2 switches. If you fill up your 4 analog channels and want to add more, you simply purchase an Expansion Analog Module and never have to send anything back to us or have to step up to a completely different unit. This means that you are only paying for you what you need and can expand the system anytime your needs change.
The Software and its user friendly features are what makes or breaks a data logging system. After the hardware is installed you rarely need to think about it, but you will be using the software on a regular basis and if it's not easy to use and easy to understand, then it's a waste of money. At Computech we have put an extreme emphasis on making our software the easiest to use in the industry. We have made downloading and organizing your runs into events as easy as possible. We have made custom views that allow you to compare your RPM's to temps/pressures/accessories. Our "All In One" view allows you to see all of your graphs inside one big graph zone, but takes it a step further and allows you to choose whether you want it graphed at the bottom, top or middle. This allows you to view all of your channels at once without having a lot of overlapping lines, maximizing the amount of data you are able to understand. Combine that with easy to use run overlaying, channel highlighting, editing and run notes and you have the most powerful and easy to use piece of software on the market.
The Technical Support should be one of your biggest factors when deciding on purchasing a data acquisition system. Because unless you are a professional tuner you will have questions and you will get confused from time to time. At Computech we understand that for a first time user this experience can be a little overwhelming and because of that we offer 24/7 evening and weekend customer support. We strive to have great customer support and searching on many racing forums will help reinforce that. We are all about the customer and we understand that we work for you, unlike the mindset of many of our competitors. Day or night, evenings or weekends we are here to answer any little question you may have. We also have an extensive online Data Logger Support section that allows you to read articles, download software, troubleshoot, ask questions, and watch video tutorials.
Features
Sensors
Engine RPM
Driveshaft RPM
Fuel psi
Oil psi
Accelerometer
Boost or Nitrous psi
8 EGT's
Remote SD Module
DataMaxx Main Module
Billet Aluminum Enclosure
100 Samples Per Second Per Channel
5 CAN Bus Connections
4 RPM Channels, Magneto Compatible
2 Switch Input Channels
2 Warning Light Outputs
4 Analog Channels
Battery Voltage Channel
DataMaxx PC Analysis Software
2x 2Gb SD Memory Card
Remote Record Switch
Labels and Shrink Tube
Computech Screwdriver
Instruction Manual w/Diagrams
***Please indicate the following info at checkout regarding your application:***
Split Collar Size
Type Of Engine (Chevy, Ford, Mopar Etc)
Nitrous/Boost PSI Range
Fuel PSI/ Pressure Range