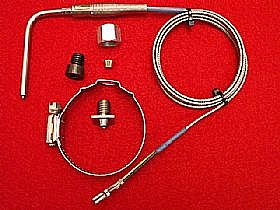 Exhaust Gas Technologies manufactures exhaust gas temperature sensors for the toughest applications known to man.
In fact, nearly every Top Fuel Dragster and Funny Car in the world use our Bullet sensors.
So what's the big deal about a Top Fuel Dragster?
Some facts: They now produce 7880 horse power with a 500 C.I. engine, (that's 975 HP. per cylinder) that consumes 14 gallons of fuel in 1/4 mile, taking 4.48 seconds to complete. The ignition produces 40,000 watts of power, the blower "Super Charger" pumps air into the cylinders at 42 lbs. of boost and the exhaust is 2000° F. at a velocity of over 2,400 feet per second.
Our Bullet sensors sit less than 4" from the exhaust valve and are required to survive a hundred runs minimum! What technologies we develop on the drag strip, as well as all other forms in professional motorsports, goes directly into the sensors we build for your vehicle today!
All sensors come with proper connector to mate with your current instrument or you can choose from our complete selection of proven EGT indicators and recorders.
Exhaust Gas Technologies Sensors are RACE PROVEN, to be the Fastest most Durable in the WORLD!